8.5 Creative Ways to Grab People's Attention
New research finds that we have just under 9 seconds—8.5 to be precise—to get someone's attention. Our attention spans have decreased from 12 seconds in 2000 to just 8.5 seconds this year. No surprise here, but the culprit is external communication.
Video, of course, is the hot commodity these days. Many entrepreneurs are jumping into video, especially short clips, which are ideal.  This graph reminds us about the importance of snippets: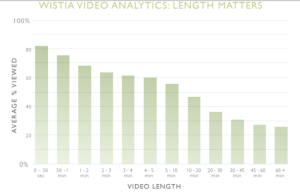 Based on our limited ability to focus, here are 8.5 things communicators, PR pros and entrepreneurs can do to grab—and hopefully keep—someone's attention. Whether you're trying to reach a reporter, your target audience or a social media connection, short form content reigns supreme.
[FREE DOWNLOAD: My 7-Step Ultimate PR Guide for Women Entrepreneurs]
Record a Twitter video. To truly connect with your followers on Twitter, put in some extra (video) effort and you'll both be amazed. True to his style of recording quick videos on the fly, entrepreneur Gary Vaynerchuk, aka @GaryVee, takes us along on a cab ride in New York and shows how easy it is to use Twitter video. A 10-second clip can truly differentiate you from others, and if you're pitching tech reporters, this will be impressive.
Nail your headlines and email subject lines. No one will read your content unless the headline or subject line is so brief yet compelling that they simply can't resist. Choose each word carefully with a focus on a benefit for the reader. Put yourself on the receiving end and be relevant. BuzzSumo can help.
Use Periscope in the morning. Interact with your morning news anchors with Periscope. The early morning news is a fabulous time to use this technology because most people are half asleep and the news anchors are more apt to interact with the few who are engaging and interested in their programs. You'll feel like old friends in no time.
Read a journalist's last five posts. Before you pitch a new contact or reporter, read —don't skim—their last five posts or articles. When crafting your pitch, mention specifics from their previous work. We all appreciate when our efforts are recognized by others. Let reporters know you're paying attention.
Keep an eye on trending topics and hashtags. These hints can help dictate your content. Run with it while your competition is distracted with other external noise and nonsense.
Incorporate easy tools that help with micro content. Less is more in our attention-starved world. Use memes, Inline Tweet Sharer, Canva and Facebook videos to keep things brief and interesting.
Consider Snapchat. According to Social Media Examiner, Snapchat is one of the fastest growing social networks, with more than 100 million daily active users. Some 70 percent of Snapchat's U.S. users are between the ages of 18 and 34. With Snapchat, you can create a video narrative with filters, emojis, music and text that will pique the attention of your audience. You can promote a contest or offer a glimpse behind the scenes of an event or conference.
Look at new ways to encourage engagement with millennials. Are you familiar with Comment Bubble? It's a free tool that allows people to react to videos. You can specify the type of feedback you would like to receive—text, audio, video, or by clicking instant feedback buttons. Here's an example from SocialMediaSlant.com: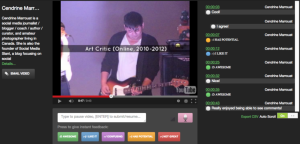 8.5. Repurpose longer content into micro content on Pinterest. If you have a tip sheet-style press release or valuable piece of advice, create a visually appealing image with one or two quick tips. Post it to Pinterest, with a link to the longer content. Many businesses generate a significant amount of revenue from Pinterest. Don't miss this easy opportunity.
The bottom line: Be brief.
---