Four-Letter Words to Supercharge Your Blog Posts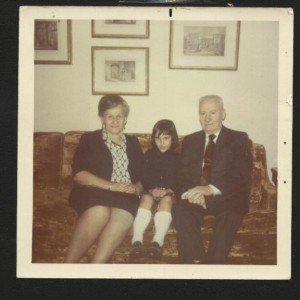 I was born in Brooklyn, New York and lived in New Jersey for 35 years. I know a lot of four-letter words.
Now, now…not the vulgar ones that may have popped into your mind. I'm thinking of nice words that my parents and grandparents (that's me and my grandparents in 1968 -photo above) taught me and my two sisters when we were growing up. Words like Care, Give, Best, Help,  and Team.
Blog is another four-letter word. Let's make it a positive one.
Here are some insights to connect these (positive) four-letter words with your blog content and writing.
1. CARE- the caps here are not a typo. To me, CARE is an acronym I use when speaking on communication. Our Communication is based on our Attitude. Our Attitude determines our Results. Our Results can be Excellent.  If you are not in a good frame of mind, don't blog or use Social Media. In fact, don't even go out. Poison leaks.
2. Give- I had a profound relationship with my grandparents. My grandmother, fondly known as "Mama" was born in Brooklyn in 1899 and lived to be 95 years old. She was uneducated, but she was very wise.  She always greeted people with the same five words,"What can I give you?" The woman didn't have diamonds or bank accounts. She gave of herself. That is priceless. Blogs allow us to do that as well. Give your expertise, knowledge and insights so someone else's world may be a bit easier and brighter. Sometimes we need to give someone a break. Don't keep a tally sheet. Do it because it's the right thing to do. You will be rewarded ten-fold. Just like Mama.
3. Best- Always do your best. Mediocrity is for other people. When you sit down to write your blog, take the time to find the right words, information, resources, pictures, video's, links and approach. Go all out.
4. Stay- Stay with it.  There 's a learning curve in everything we attempt and (blog) writing is no different. Read other people's posts,   participate in my weekly webinars, and ask questions of  bloggers you admire. Success leaves clues. Practice writing several posts a week so you can see progress. But don't quit. Blogs can be a major marketing tool for you. Stay with it.
5. Team- Social media and the concept of viral marketing are based on teamwork. Consider us all one big happy viral family who is spreading our gospel. Help one another  with links, resources, valuable information, inspiration and friendship. Build rapport with your friends, connections and followers. Rapport is defined as getting people thinking, feeling, reacting and involved. Connect with others online with the mentality of a family or team. Yes, even your competition.  We all have opportunities to grow and share.
My two final four-letter words for you: Good Luck.
---